OVAL BUTTONS LINK ACTIVELY; RECTANGULAR ONES DON'T.















According to our foreign correspondents, the family name derives from "huama," a caretaker of cows on the huam (Austrian dialect for a mountain grazing ground)--so at heart we're just Austrian cowboys. No wonder we look so great in western garb!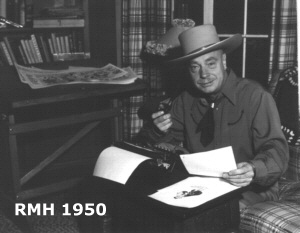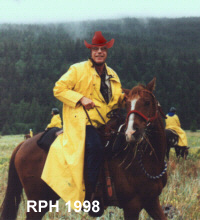 DAH and RPH --photo by George Winkler circa 1943

.

Caricature of RMH by Jim Bodrero
for Buck O'Rue

Visit Mesa Trubil!
Meet its denizens!
Read Buck's debut!



Art by Robert Hubbell

BART LANCASTER (1898-1947)

Icon of the silver screen in the 1920s, Bart is best known today as the founder of the Annual Lancaster Hoot & Hoedown, held in his namesake town. Unfortunately that event took place only a single time, in 1932, as Bart was seriously injured in a bizarre filming accident later that year. He had leaped from the pinnacle of Vasquez Rocks onto the back of his steed, Hoss, thereby breaking his gluteus maximus. (Hoss fared even less well.) No record of this unsurpassed stunt survives, as film from the day's shoot was ruined in the lab. Bart retired from showbiz shortly afterward,
drifting through a series of menial jobs in Victorville, Pearblossom, and at the Skunk Works. Eventually people forgot his name, mispronouncing it "Burt Lancaster" or even worse, "Burt Palmdale." He died in Acton in 1947, of a broken heart according to some film historians. Others insist it was a broken derrière.
BILLY THE SLOB (1848-1800 [sic])

To judge from his headstone, Billy appears to have lived his life backward. In many ways, he did. His most acclaimed achievement came at age 12, when he saved ten horses from a barn that he had accidentally ignited while smoking dope. He spent the remainder of his days in gambling, brawling, pool-shooting, and sinfulness. The latter mainly involved transactions on behalf of his paramour, the devoted but olfactory-challenged Slew-Foot Samantha. Predictably, Billy died with his boots

From RMH's "Buck O'Rue"
Art by Paul Murry
on; he rarely removed them for any purpose including sleep. His unusual tombstone derives from a sort of "Y2K" problem—the stones were often partially carved and sold well in advance of death, with the expectation that the client would die in the same century. Billy actually died a few hours after midnight on Jan. 1, 1900. The thrifty Samantha thought an error of only a few hours didn't justify the cost of an entire new gravestone.
FESTUS P. TWANG (1927-1964)

Well-known fiddle player and Dobro artist in the 1950s, Festus wrote and performed such signature pieces as "Apple Pie Sweetie-Pie" and "That Banjo-Eyed Baby of Mine." His greatest mega-hit was arguably the mournful ballad, "You Took My Heart And Stomped That Sucker Flat." Festus lived on a large ranch just outside Mojave with his wife, 3 children, and 24 shih tzus. (He explained that he enjoyed pronouncing the name.) In later years his keen gift for metaphor turned perverse. The man who once had sensed a girl's laughter in mountain brooks and a woman's scent in the pine forests, now saw wildflowers as tear-stained hankies, and heard coffee grinders in waterfalls. He came to attach an erotic significance to stringed musical instruments, believing their f-holes stood for the f-word. It was during a violent thunderstorm, while he was testing this proposition, that his electric guitar shorted out and he met an end that was as bizarre as it was untimely.
VISITORS TO THIS SITE ARE ENCOURAGED TO SUBMIT MORE "LEGENDS OF THE WEST" TO RICHARD@HUEMER.COM